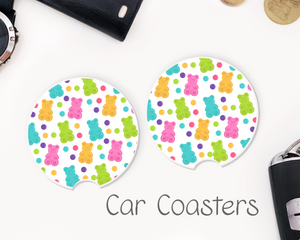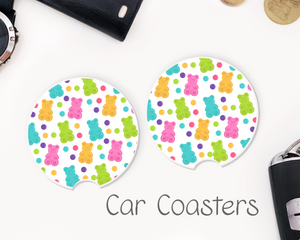 Gummy Bear Car Coasters
Set of 2 Absorbent Neoprene Round Car Coasters 2.75" in diameter and 0.2" thick.

Coaster Size is standard for MOST vehicles. Please measure your specific cupholder before ordering

Our car coasters are the coziest cushion to place your tasty beverage. They're perfect for preventing moisture buildup or spills from creating a sticky mess in your center console. They make it easier to keep your car clean and tidy while providing a pop of color and whimsy at your fingertips. Match your vehicle's interior, your own personal style, or create a punny conversation starter! No matter how you use them, swap them, or display them, they're sure to enhance everything from epic road trips to daily commutes.

**Material: Neoprene

**Shape: Round

**Design on top only. The bottom is patterned non-slip, black.

Care Instructions:
-Hand wash Only
-Not dishwasher safe

**Monitors and phone screens have different color settings, so the product's color may differ slightly from your display.