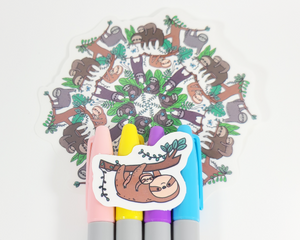 Sloth Mandala Sticker Set
Sometimes bigger really IS better! These supersized stickers measure approximately 5" by 5", are printed on vinyl and coated in laminate to be extra durable, extra bright, and extra cute! Each jumbo sticker also comes with a matching mini-sticker too, for even more fun. Perfect for laptops, water bottles or anywhere you need an extra dose of adorable.
Our stickers are all printed on high quality, coated, and water resistant vinyl.
• Includes one (1) sticker
• Thick vinyl with clear laminate. Made for durability.
• Scratch, weatherproof, and waterproof.
• Stickers ship free if ordered with another item.
• Handwashing is recommended when used on water bottles.
Colors of products may vary slightly from the photos shown.
Illustrations © Fun Usual Suspects
Sharing a photo of something you purchased from us? Use the hashtag #funusualsuspects so we can see it! We love seeing our suspects in all kinds of funusual places!