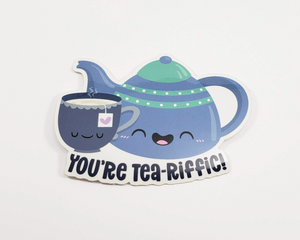 Teariffic Sticker
Cheer someone uppa, with a cute little cuppa! This hot and sweet little sticker will let anyone know that you hold them in the highest es-steam. Sometimes, when we're in hot water, and life has gone to pot, it's nice to be reminded that someone thinks that you teatotally hit the spot.
Our stickers are all printed on high quality, coated, and water resistant vinyl. 
• Includes one (1) sticker
• Thick vinyl with a UV laminate. Made for durability.
• Scratch, weatherproof, and waterproof.

Colors of products may vary slightly from the photos shown. 

Illustrations © Fun Usual Suspects

Sharing a photo of something you purchased from us? Use the hashtag #funusualsuspects so we can see it! We love seeing our suspects in all kinds of funusual places!